AweSun Remote Desktop enables you connect to your computer, or mobile devices, anytime and anywhere. Run AweSun on your chosen platform, be it Windows, macOS, iOS or Android. It's free, fast and simple. You can use AweSun to: -Work from home with remote access to office computers. -Remote access/support mobile devices on the go. -Play PC games on mobile devices. -Easy collaboration, quickly join your team and work on projects together. -Remotely unattended access with one-click.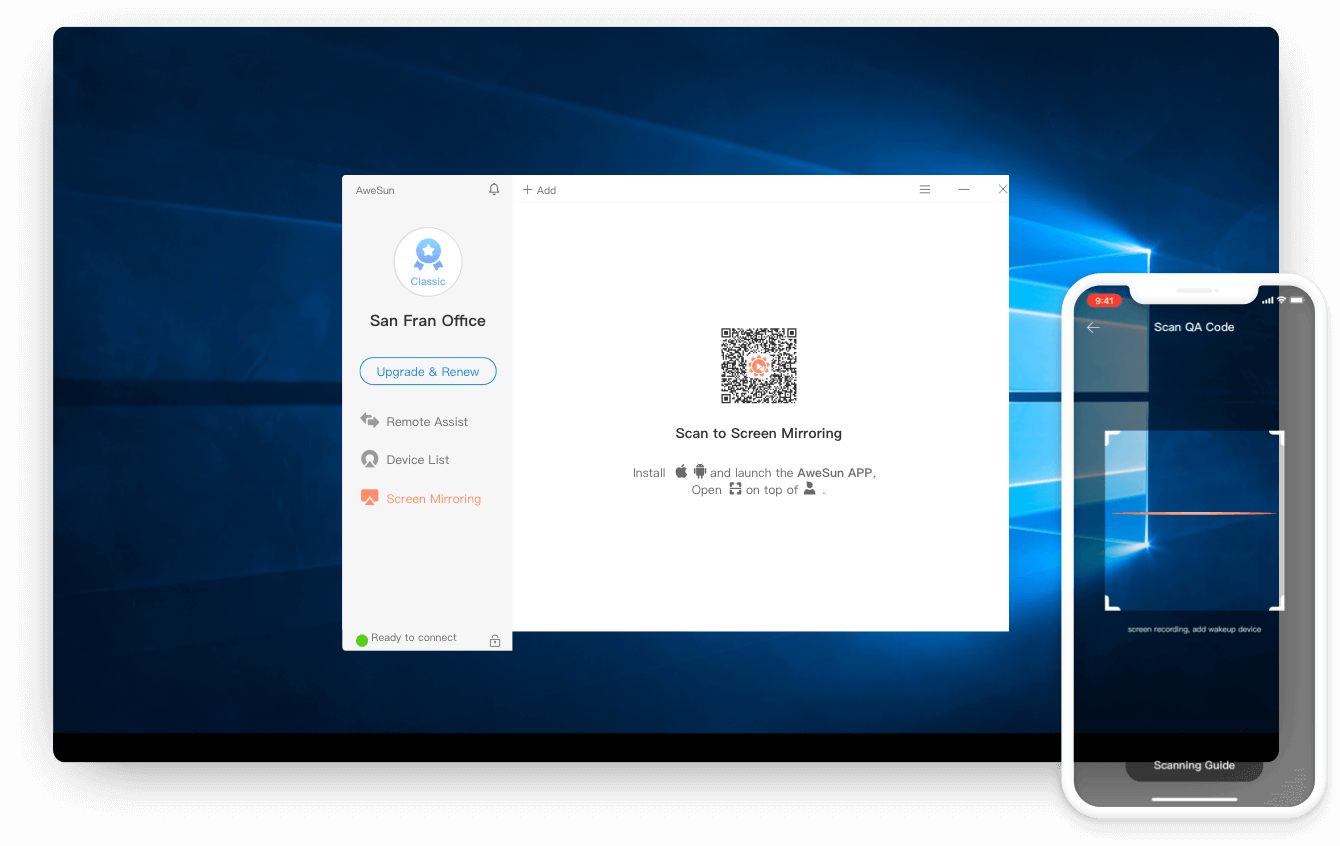 AweSun brings you easy, efficient and secure access to remote desktops, whether you're at home, on the go, in a hotel… anywhere. AweSun offers cross-platform compatibility such as connections between Windows, iOS and Android. Powered by RSA/AES (256-bit) encryption and H.264 technologies, AweSun delivers a secure, stable and smooth connection to your devices. Computer aided transmission of messages and images enables you to control all actions on the remote computer, as if you were there.
Remote Assistance Solution
AweSun enables you to achieve online teamwork, and on the go support with your clients, colleagues, friends and family.
· Host a productive video conference and collaborate on projects remotely.
· Save time and travel cost for onsite, in-person service and maintenance.
· Fix IT issues remotely and help you to stay productive.
Remote Desktop
Simplify your remote working expereince.
Establish a secure connection with just two clicks.
Secure all remote connections with AES (256-bit) encryption.
Be productive and limitless from anywhere, anytime.
Screen Mirroring
Share mobile screen remotely without limitation.
Cross-PlatformSeamless iPhone/Android screens sharing.
Remote MirroringShare screens live with any remote desktop.
Support phone users wherever they are.
AweSun VS Anydesk
| Feature | AweSun | Anydesk |
| --- | --- | --- |
| Free for Personal Use | ✓ | ✓ |
| Free for Commercial Use | ✓ | ✕ |
| Remote Desktop | ✓ | ✓ |
| Screen Mirroring | Free | ✓ |
| Remote Work Solutions | Free | ✓ |
| Multiple Concurrent Sessions | Free | ✓ |
| Remote CMD | ✓ | ✕ |
| Game Keyboard | ✓ | ✕ |
| Cost | $ | $$$$ |
Cross-Platform Access
AweSun Remote Desktop for macOS is distributed free of charge. The software is periodically scanned by our antivirus system. We also encourage you to check the files with your own antivirus before launching the installation. The version of the Mac application you are about to download is 1.2.0.29509.
 AweSun Remote Desktop provides free, easy, fast and secure remote access to platforms like iOS and Windows. AweSun uses financial level encryption based on RSA/AES 256, dual authentication, enforced password reset on unusual activity and a listing feature for trusted devices. You can use AweSun app.